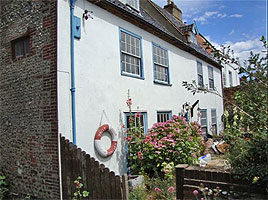 "Brilliant week in the perfect location. Many walks enjoying the abundant birds and wild flowers. Town has good shops, no tat! and everyone is welcoming. Cottage is spacious and comfortable" Richard and Paddy from Worcester, May 2016
"The cottage is great, beautiful and well-equipped. Good friends re-visiting Wells after many years. Good weather, good walking and bird watching" Gayle from Alicante, April 2016
"A spacious comfortable home for walking, catching up and cooking. Thank you" Ann and Alex from Birmingham, April 2016
"Had a lovely week in your lovely cottage, and the weather was really kind to us, despite being April. Managed to get on the beach on four days, pretty good going" Guy, Jane, Henry, Fleur and Gran, April 2016
"Thank you for having us Jess! Love the house, kids found it an adventure. Slept like a log, peaceful and perfect. Your Nan and Grandad would be proud" Lisa, Shane, Lauren and Olivia, April 2016
"Here we are again at our favourite place. We managed fabulous weather for our fifth visit. Bright blue skies if bitterly cold, even a snow flurry! Some tasty meals in the Golden Fleece and warm cosy evenings by the fire with a glass or two. Sad to see that some visitors have not taken care of Jolly Sailor" Jane and friends from Norwich, February 2016
"Can't believe our luck with the weather yet again! Another lovely walk to Holkham, Beans seal trip and complete relaxation" Maureen and Phil from Warwickshire, February 2016
"A wonderful return visit - lovely walks on the beach and in the woods, with a warm comfortable base to return to. We highly recommend the Golden Fleece! Thank you" Clare and Roger, January 2016
"What an amazing cottage! Had a great week despite being in the face of 3 hurricanes. The renovation work has been to a high standard but sympathetic to its character" The Taylors from Leicestershire, November 2015
"We've had a lovely week here and have been most comfortable. Visited Holkham Hall, Blakeney, Holt. Hired a beach hut for the day at Wells. Our grandaughter loved her 1st experience of the beach. We've enjoyed our walks everywhere - so much to see and do though!!" The Lewis', September 2015
"A really lovely week in your cottage - home from home with everything you need. The history of the house is really interesting and it was lovely to be able to meet the owner who was able to tell us lots of information regarding the house and the area. We will be visiting again soon" Anne and John from Buckinghamshire, September 2015
"We have had a lovely few days in your cottage. Everything was perfect" The Maddens, September 2015
"Thanks so much to the family for the privilege of staying at their beautiful house. My sisters and I enjoyed spending time together in a house that has so much character and warmth that we really felt at home! It was perfect" Jo and Adrian from New Zealand, August 2015
"A return visit from us - as lovely as ever. Great to show Granny and Grandpa the beautiful Norfolk coast. The Crown brilliant food and great with kids" The Fleet family from Essex, August 2015
"Thank you for letting us stay. We have had a great holiday, us kids loved the house and how it was so close to the shops. Many thanks" The Gisborns, July 2015
"A really lovely week - home from home. Many thanks for such a lovely clean and convenient house" Sally and family from Northamptonshire, June 2015
"A lovely holiday! We so enjoyed the history of the cottage - quite an absorbing and fascinating read! Lots of good food from the local shops - we ate well, drank well, and slept well! Many thanks" Brenda from Worcester, June 2015
"A wonderfully relaxed stay has been had at Jolly Sailor Cottage. Very comfy with all you need for a home from home. Weather kind with only 2 showery days, lovely walks from cottage to the sea. Will be back to do all coastal path. Thank you for a lovely stay" Stuart, Paula and Sofia, May 2015
"Had a lovely time, never been to area before. Weather could have been kinder early in week, but didn't stop us enjoying our stay. House had everything we needed, such a central position. Enjoyed food at Golden Fleece, also at Jolly Sailors in Brancaster Staithe. We preferred fish and chips at Plattens. Thank you" Geoff and Margaret, May 2015
"A flying visit but felt it was a lot longer. French's fish and chips as usual and lovely walks" Maureen and Phil from Warwickshire, March 2015
"Another lovely visit, my fourth. I'm sure we will be back as long as we can put one foot in front of another! Comfy and cosy as ever, super weather too" Jane from Norwich, February 2015
"Our second visit. Loved it just as much! Perfect cottage, feels like home as soon as you open the front door. Now need to work out how soon we can come back!" Simon and Dorren from Worcestershire, November 2014
"What a beautiful place thank you. Immaculate in every way. Baby Darcy loved it (15 weeks). The Disney videos were loved too - by an adult. Cannot wait to come again" The Allens and the Webbs, 2014
"We have had a wonderful week here, out third visit, topped up by glorious weather. We have walked, talked and emptied a few bottles. As friends we have known each other for 60+ years and love our catch-up time at Jolly Sailor. The garden is looking lovely, and we were glad to see the flood damage so well repaired and replaced." Jane from Norwich, September 2014
"Always thought a 'dog-friendly- cottage would be basic. How wrong was I! Felt at home straight away. Full of character and interesting features, plus modern home comforts, and all clean, cosy, bright and comfy. Kitchen very well-equipped, we could have eaten in all the time if lovely fish and chips didn't beckon. Loved the space here too.
Easy to walk to harbour, shops and cafe and beach, just fantastic ... our dogs adored running around a huge empty beach in and out of the water, chasing seagull, with a welcome lunch in the beach cafe and a hose down before heading 'home' for a nap.
All in all a perfect break, made more special by staying in Jolly Sailor Cottage. Hope to be back. Thanks Jess for sharing your lovely holiday home" The Collingwoods and Sadie from Kent, September 2014
"This is a very special house - particularly to spend my 60th birthday. Great times!" Barbara from London, August 2014
"Wonderful!! Just the break we needed, the cottage was so comfortable and well-equipped. First visit to Wells but will most definitely be back, although we can't count on it being the hottest summer week again! - Bliss. Days on the beach, and what a beach. Great shopping for the ladies, car is packed full on return journey. Golden Fleece on the harbour is great food, if you like a little something different. Fish and chips as everyone knows are great, be prepared for long queues - this is not an instant, quick option but worth the wait. Burnham Market very pretty.
Master bedroom could benefit from darker curtains / blinds, light at 5am! Sunlight streaming in from 6am, still if that is all we found to mention, it shows we have had a fabulous week. Thank you Jess" The Burtons, and Beau from Maidstone, July 2014
"What a wonderful little city and cottage. Thank you for this lovely week - sea, ship, promenade but also friends. Thank you so much" The Thomas' from France, July 2014
"We all loved our stay here in this wonderful cottage. Only a few steps from the sea and the lovely views. We were even treated to a gorgeous rainbow over the quay on our last evening. A perfect end to a great week" The Crouchs, June 2014
"Comfy, cosy and spacious; an amazing house to stay in. Thank you" and "It is an absolutely gorgeous place to stay. Total crabs = 50(1)!. We hope to be back another time" The Sales, May 2014
"Can't think of a better place to be to start my birthday celebrations! Exceptional weather and fantastic company. Thank you so much Jess and Alex" Maureen and Phil from Warwickshire, May 2014
"What a wonderful weekend we've had in this beautiful house! The skies have been blue, the garden wonderful and the company great. Looking forward to cooking some of Alex's recipes as a reminder of a lovely time" Gill and Colin from Warwick, May 2014
"Lovely, well-appointed holiday cottage, with all your memories apparent. Most interesting history journal, and I loved the 'wall chart'! Regards.", Amy from London, May 2014
"Beautiful cottage - home from home. Kitchen refurb great! Didn't want to leave." The Marringtons from Yorkshire and Hexham, May 2014
"Many thanks for such a warm welcome and comfortable, cosy stay in your beautiful family home. We will definitely recommend it to others and hope to be back! With best wishes." David from Hertfordshire, November 2013
"Thank you Jess! Jolly Sailor Cottage is my idea of home from home! So warming, spacious and cosy....comfy sofas and everything you could possibly want with a bonus of a real fire...bliss! Don't miss the seal boat trip and the sea shanty singers at The Lord Nelson on Monday evenings. Special pub the 3 Horseshoes at Warham. Good food at Jetty Cafe Cromer, Lord Nelson for Sunday lunch, Crown Hotel good food and atmosphere." Neil & Christiana from Colchester, November 2013
"Thank you for a few glorious days. We were very cosy and warm here." Paul & Trudi from Welwyn Garden City, November 2013
"A fantastic break in a beautiful cottage, the cottage had everything we needed. If you are in Cromer, try Davenport's Magical Kingdom a bit further along at North Walsham for some mysterious illusions and fabulous magical artifacts." The Barnes' from Southend-on-Sea
"Thank you so much for a wonderful stay in your house. We have had incredible walks out to Holkham Hall and Blakeney Point, saw a lot of seals! Lovely weather, beaches, food, big skies. What else could you ask for... Really opened my eyes to Norfolk!! Thank you again." Caroline & Chris from Cambridge, October 2013
"Loved the salt marshes and wildlife, will miss the big skies. Lovely place, very relaxing" Kath, Mike & Mae from Derbyshire, October 2013
"Really appreciated reading the history. Such a lovely place to be, so much room. Wonderful location. Wells is our Norfolk choice as always. Many thanks. Very impressed with the lookout room" Rob & Jill from Cheshire, October 2013
"Despite the awful weather forecast, we had another lovely weekend here and feel ready to face the world of work again!" Phil, Maureen & Ellie from Leamington, October 2013
"Best place I have ever stayed." Dorren, October 2013
"A lovely cottage in a perfect location for exploring this area. Very good food at The Globe, The Crown and The Norfolk Riddle in Walsingham." Joy from Essex, September 2013
"The cottage is lovely and so spacious. The position is excellent and the garden was just beautiful for when the sun came out. We all enjoyed ourselves greatly." The Wearmouths, June 2013
"Cottage was perfect for us - spacious, comfortable; everything we needed and more besides! Lots of good eateries in Wells, especially The Crown. The sun shone for us too, but very breezy." Judith from Nottingham, June 2013
" A lovely week in a great cottage. Will definitely recommend to friends. Thank you." The Swains from Essex, May 2013
"What a fantastic house - we had a great time discovering all of the little 'nooks & crannies' that make this house so unique and beautiful. Perfect for the walk into town, stroll along the waters edge....Oscar loved his morning swims! All pubs dog-friendly. The Crown superb. What a wonderful birthday week. Thanks Jess for sharing your family home." Dawn, Mike, Andrea, Noel, Mary, Dee & Oscar, May 2013
"A lovely week, beautiful weather thank you! Jake especially loved the secret room at the top of the spiral staircase." Jenny from Barnsley, May 2013
"Very warm and sunny week. The Lifeboat B&B do very good take away home made pizza. Albatross pancakes are excellent. French's fish & chips very good. Wiveton farm shop expensive. Thanks Jess!" Lynn and family from Ashwellthorpe and beyond! April 2013
"A lovely, quiet, relaxing week. Thank you." Kathryn from Colchester, April 2013
"Another lovely stay. No rain! Winds from the Arctic. Enjoyed everything, the Globe and the Crown excellent and the fishmonger a real authority. Cinema very enjoyable too." Sue and family from Oxford, April 2013
"Wonderful cottage in a fantastic location. We had a lovely stay. Loved the long walks with our dog. Will certainly come again." The Youngers from Bishop's Stortford, April 2013
"What a fabulous cottage - it's got everything - charm, character, warmth, space and is above all clean and well equipped. Great location - Wells is a beautiful part of the country - had a great time." Avril from Nottingham, March 2013
"I can only echo the sentiments below! Thank you so much for helping us all to have such a great weekend"..."Very clean and welcoming"... "Lovely cosy and warm cottage with plenty of space and parking. Lovely location"... "Truly fabulous!" Helen, Bill, Ann & Jim, Polly & Dave & Ginny, March 2013
"What a beautiful cottage and lovely town. We have had such a lovely time here." Stephen, Wendy, Flynn & Hudson from Mt Gambier, South Australia
"Very relaxing and very pleasant stay. Many thanks" Tim from Chester, December 2012
"A lovely cottage with great character. Have cooked lots of lovely meals and enjoyed all the beauty of Wells. A wonderful place to stay. Lots of laughter and wonderful memories to treasure. A very special holiday for a group of friends. Hopefully not the last one." Sarah from Norwich, December 2012
"An amazing house, lovely & comfortable, our best stay yet. Thank you so much for letting us stay in your beautiful cottage..... we would like to book again for the same time next year" Abi from Northampton, December 2012
"Spacious and comfortable house - thank you." Anne from Dereham, November 2012
"Wells was beautiful, the cottage was intriguing, and charming, warm and inviting. We would love to return one day. Many thanks for letting us stay" Lisa, November 2012
"What a super, warm, quirky cottage! It gives all we needed on a mixed weather week. Fish and chips from Frenchs were fine and try Cookies at Salthouse - great mixed seafood salad for less than £7 was memorable." The Giffords, November 2012
"Lovely holiday in a warm, comfy house. All our needs met in the town, very knowledgeable fishmonger, The Globe for a nice meal. Trip to Cromer led us to The Red Lion, brilliant fish platter and lovely staff, children very welcome." Sue, Clive, Macey & George from Oxford, October 2012
"Lovely stay - too short! Loved the local butcher and greengrocers, and such a pleasure to cook in the big kitchen. Thank you!" Eldor, Jannet, Chingiz & Liz, October 2012
"We had a great weekend, the Cottage was one of the best we have stayed in and I have already recommended it to family and friends. We loved the history of it, the family height wall and the lookout. I can't think of anything that would have made it a better place to spend a holiday." Kate and friends from Staffordshire, October 2012
"Thank you for a totally memorable, relaxing week at the beach house. Boating, crabbing, running along the beach and marshes have been great! Special memories forever" David, Fiona, Luan & Brooke from Australia, October 2012
"Spacious yet cosy cottage - lovely stay. Have fallen in love with North Norfolk all over again. Malky and Hattie loved the beaches. Thank you!" Barry & David from Cheshire, September 2012
"Thank you Jess & Alex for such a lovely cottage. Good places to eat - The Globe and the Wells Crab Cafe but you have to book. Beans seal trip great too!" Alison & John from Oxfordshire, September 2012
"A brilliant holiday. Fantastic place to stay. Great location - what a great way to celebrate being 40 years young!" Carol from Doncaster, September 2012
"A fantastic holiday in a fantastic cottage. We all had an amazing time" Lizzie from London, August 2012
"We had a lovely stay. Great pubs and restaurants. Great area to go crabbing" Milly from West Yorkshire, August 2012
"Thank you so much for a wonderful stay. The most comfortable and enjoyable holiday we've had. Both the cottage and the garden are lovely. We'll be recommending to family and friends." and " The house and facilities were great and beds were lovely and comfortable. It really feels like a home from home (with a touch of something special)! It was a real treat to sit in the garden and up on the lookout veranda. The house is also situated in a great position for all amenities." Sally from Coventry, August 2012
"Amazing cottage, spacious and well-equipped. Very lucky with the weather this week. We all thoroughly enjoyed our stay." The Kellys from Uxbridge, August 2012
"Fantastic space for enjoying the ever-changing weather, light and tides." Emm, Adrian, Joe, Emma & Esme from Staines, August 2012
"Seven days glorious sunshine, fantastic thank you!" Sally, Oz, Molly, Barney & Nell from Devon, July 2012
"What a delightful, spacious and light cottage! We have thoroughly enjoyed our stay - we particularly loved Holkham Beach (as did Hunter!). The cottage is very well-equipped and feels very much like home" Charles, Julia, Oliver, Chris and Hunter the dog from Walton on Thames, July 2012
"This is our second visit to Jolly Sailor Cottage and I'm sure it won't be our last. Wells is such a wonderful base for a family holiday and the cottage is so spacious and well-equipped" Richard and family, July 2012
"The cottage was really lovely; spacious, clean, terrific location and superbly equipped. Our daughter loved the toys and we used all the baby equipment too. Enjoyed your family history too." and "We all enjoyed our stay at Jolly Sailor Cottage, a great base for our first exploration of Norfolk" Melanie from Stamford, June 2012
"We had a great week - the house was great, lovely big interesting rooms and great location. All the information and local recommendations were also really useful. We'll definitely recommend it to our friends along with Wells, and seriously consider another stay as there are lots of things we didn't manage to do." Guy, June 2012

"Had a super week - lots of sun and lots of talking - wonderful" Wendy from Devizes, June 2012
"The Jolly Sailor Cottage was lovely, so much space and everything we needed, we were very comfortable and warm. The lookout was a lovely place in which to unwind with a glass of wine!. The position in Wells was superb, so quiet but close to the sea, town centre, etc" Pam from Derbyshire, June 2012
"We had another really enjoyable week at the cottage. Have sampled most of the good restaurants between Sheringham and Hunstanton. As the Terminator said 'We will be back'!" David & Kay from Derbyshire, May 2012
"Just wanted to stay thanks for letting us stay in your lovely cottage. The weather was very kind and we had a great time. Loved the history of the house, really glad you were able to tell its story. Hope to return sometime." and "Lovely, spacious cottage. Good location. Really lucky with the weather for a short break. History of the cottage very interesting. Loved the poems written in 1936 and 1956, must have been a wise and shrewd man" Jo and Steve, Judy and Michael, May 2012
"Your cottage is amazing & you have done a fantastic job renovating it! Had everything we needed, we will definitely be back!" and "Had a fantastic stay here. The cottage is perfect, really child friendly & has everything you need. The area & location was lovely & perfect. We have had some lovely walks and will definitely be back to explore some more and will be recommending to friends & family. Thank you for letting us share in your family history. Three days was not enough! Off to walk along the beach in the sun now! Thank you" Sarah, Steve & Luke from Ware, May 2012
"In spite of the wind and rain on Sat & Sun we managed a walk to Stiffkey!Had a roaring fire each evening with lots of wine. This is the perfect house in all weathers!" Maureen & Phil from Leamington, April 2012
"Lovely, interesting place to stay. Cottage is very well appointed - appreciate the history too" Linda & Mike from London, April 2012
"We have had a lovely holiday in a lovely cottage in a lovely part of England. All in all it was lovely" and "Especially recommend Bewilderwood and the Muckleburgh Collection for young boys (and their parents!). Thank you for a wonderful holiday in this beautiful cottage" and "I have really enjoyed my time here. I'm sure everyone else did too. Thank you!" Keith, Eleanor, Rosemary, Daniel & Thomas, April 2012
"We had a very nice week at the cottage and enjoyed the closeness to the water and shops, it's in an ideal situation with plenty to occupy your time. The cottage is lovely and comfortable especially having the open fire in the evenings after a day out." Adrian & Hannah from Bedfordshire, March 2012
"We had a great week as you can imagine given our good fortune with the weather. We very much enjoyed our stay at the Jolly Sailor Cottage, the house was wonderful and full of character. The bed we slept in was very comfortable (thank you!), so many aren't when we go away. My wife loved the lookout and sat there with her first cuppa each morning. The upstairs bath was great and quite large, it was not obvious from the photo on your website which was a pleasant surprise." Dave & Liz from Devizes, March 2012
"We all had a lovely week, made all the more better with such a lovely place to stay. It really is such a lovely cottage, so spacious and so homely. We enjoyed every minute of it and hope to return again soon!" and "Lovely cottage - spacious, well-equipped and comfortable. Great location - thoroughly enjoyed our stay. Thank you" Siobhan from Cambridge, March 2012
"What a charming place! I was lucky with the weather and fell in love with the peaceful harbour. I very much enjoyed lying on the day bed in the lookout watching the tide drift in" and "The owner, Jess, is a very generous lady who kindly let me stay here for one night in exchange for a possible review on my website. I only showcase what I consider to be the finest Norfolk has to offer, and after staying at Jolly Sailor Cottage I am more than happy to include this house. It's spacious, clean, well-equipped and quirky. I simply love the lookout snug - who wouldn't!" Diane from Norfolk, March 2012 www.finestofnorfolk.co.uk
"What a jolly time we have had at the Jolly Sailor Cottage! Excellent few days spent at the beach, going out on Bean's Boats to see the seals, eating scrumptious cake & pasties & pies from Stiffkey Stores & Picnic Fayre in Cley & delicious seafood at The Crab House. Thank you Wells we loved it!. PS The pear & ginger cake from Picnic Fayre is a must!" Shep, Ngaire, Cash Dog Lara, Alex & Sprocket Dog, March 2012
"Could not have found a nicer cottage for Mike to spend his 65th birthday. Thank you" Mike and Sue from Biddenham, February 2012
"Just back from a lovely week at Jolly Sailor,what a super cottage and so full of history and your family memories. We did enjoy ourselves and will definitely return in the future" Jane from Norwich, February 2012
"We had a great week in the lovely cottage. Our favourite day was taking the Coasthopper to Burnham Overy Staithe and walking back along the beach to Wells" Katherine and family from Leicestershire, February 2012
"Many thanks for a lovely week, what a great cottage. We'll definitely recommend it. Loved the Hoste Arms in Burnham Market and The Globe, only 8 minutes walk. They both are dog-friendly restaurants" Pat and Graham, December 2011
"Really enjoyed the cottage. Very warm and homely. Hope to come back again. Thursford Christmas Spectacular lived up to last year - fantastic night" Sue, Terry, Charlie and Dan, November 2011
"We liked Jolly Sailor Cottage and it's location. The open fire made it lovely and cosy. Great fishmonger in Burnham Market" Mark and Penny, Worcestershire, November 2011
"Location, location, location and a very characterful cottage. Thoroughly enjoyed our stay. Look forward to returning. Thanks" Maureen, Phil and friends from Leamington Spa, October 2011
"We've been lucky enough to stay in a lot of cottages over the years and Jolly Sailor is definitely one of the very best. You seem to have achieved the difficult balance of cosy yet spacious cottage; everything (including the garden) is so well kept and the location is fantastic! We will be back" and "We enjoyed a very comfortable stay in your lovely cottage. Loved the North Norfolk Coast" Rob from Nottingham, October 2011
"It was really nice with the beach on our doorstep and the house is beautiful" Casey from Wheatley, October 2011
"Thanks for the weather, what a bonus! Wells is a favourite place of ours and the cottage (!) made it extra special" Sharon and Stephen from Norwich, September 2011
"Had a great week. Lovely house. Sure we will be back" Josie and Len from Leicestershire, September 2011
"Lovely house in great location. We all enjoyed a relaxing week exploring the local beaches. Great family holiday" Mrs Hart from Oxfordshire, August 2011
"Really beautiful conversion, the Lookout is priceless, comfortable beds and wonderful cooker. So light and spacious. The location is hard to beat. Thank you so much for a fantastic week on the coast - crabbing, seeing seals at Blakeney Point, birds at Cley Marshes, lunch at The White Horse in Brancaster & lovely neighbours!" The Clarkes from Poole and the Leaches from Southampton, August 2011
"Lovely cottage - lots of good stuff for families - we would love to come back" Mr Adams from Kingston upon Thames, August 2011
"Lovely quaint area with great views. The house was cosy but spacious, shame we were only here for a week. Unfortunately did not get time to visit the chip shop" and "The beds is cosy. The seats are soft." Mrs White from Essex, August 2011
"Lovely week ...fantastic house to stay in...sad to be going home" Mrs Hines, July 2011 and from Jonathon "Great house"
"We have had a great time - plenty of space - great location. Cottage very clean - will return soon" Emma from Milton Keynes, July 2011 and from Lauren "It was great, the view is fab, and it's a great place to stay by the sea" and "We had a lovely time at the Jolly Sailor Cottage, it is a lovely house and we felt at home for the week and would certainly love to return next year as the location is perfect. Over the years we have stayed in various holiday homes with our 3 girls and I have never felt completely happy with the accommodation but your cottage had plenty of space and everything we needed for the week."
"Superb quiet space full of character - loved to have met T F Dack and respect you for the chance to share the family photos. Would have dearly liked a little more history of the cottage etc. Wells perfect for sightseeing and National Trust properties, and visits to Norfolk Lavender, Blakeney and Sheringham - lovely dog walks with our dearest old dog Sammy" Carolyn & Clive from Nottingham, July 2011
"Having our last night at your cottage. Been fantastic. We will be coming back" and " A lovely house with tons of space for Lily (14 months) to crawl around - great location to explore Wells and beyond ..wonderful time had by all..will return soon. Thank you." Steve, Adele and Lily from Northampton, July 2011
"We had a lovely time, and fell in love with the cottage, it has so much character, could have quite happily moved in... I will be recommending you to all my friends, and hope to make return visits" and "Had a great week, loved your cottage and didn't want to leave ..we'll be back" Donna from Letchworth, June 2011
" We really enjoyed our stay and have had great weather. We loved crabbing and had a great day at Pensthorpe too. Thank you. I recommend a trip to the shrines at Walsingham, very beautiful and calm" Marion, Paul, Tim and Becky, June 2011
" Fabulous base for a holiday! Very good restaurants in the surrounding area. We had a great time in Wells and the surrounding area. The cottage itself is outstanding, and made for a very comfortable holiday. Everything that we needed or wanted was provided. We will certainly recommend it to friends, etc." David and Kay, May 2011
"We have enjoyed our stay at this lovely, comfortable house. The location has been perfect for us. We found the pictures and the books very interesting" Dan and Alison from Tunbridge Wells, May 2011
"Lovely spacious cottage, fab position! Loved Wells. Enjoyed meals at The Globe (The Buttlands)" Debbie, Gemma and Harry, May 2011
"Lovely home, had a good time thank you" Nicola from Australia, May 2011
"Goodbye, lovely house, thank you" Sharon from Essex, May 2011
"Thanks for a great holiday, I'm sure we'll be back" Jason and Kerry, April 2011
"We had a fantastic time. We enjoyed the bedrooms and the living rooms and everything about the house. It's huge! It's a beautiful house." Hannah from London, April 2011
"Fab week in a beautiful cottage - it's a special place and we will definitely come back!" Kim and Paul from Sunningdale, April 2011
"We had a fab time, it was fun and exciting! I think the dogs enjoyed it too! We will be back soon. Thanks" The children from Sunningdale, April 2011
"We had a great week in your lovely cottage. The weather was fantastic. Great walks from Morston quay to Blakeney and surrounding areas. Will be back soon" Lynn and Graham from Macclesfield, April 2011
"We had a great stay in your lovely quirky cottage, the location in Wells was just perfect. I am sure we will come again" Leila from Leicestershire, April 2011
"It was cold, wet and windy. BUT that did not spoil our stay or dampen our spirits. There was still plenty to do - mainly involving shops, delis, galleries, pubs and restaurants - but when we weren't indulging ourselves outdoors we were more than happy to stay in Jolly Sailor Cottage with a warm fire, glass of wine and one of the games from the well-stocked toy cupboard! Or we just watched TV or read our books from the comfort of one of the many sofas." Lynn, John, Tim and Zoe from Norfolk, Mar 2011
"We have spent three lovely days here with great weather. It's a wonderful house in exactly the right spot" Maureen and Phil from Leamington Spa, March 2011
"We're a bit obsessed with the room at the top of the spiral staircase! And we loved our room (the one down the stairs) it had lots of character. Oh, and one more thing, we are poor students and are jealous of the amazing kitchen. PS great location and we had so much fun crabbing" Ellie and Laura from Leeds, March 2011
"Fantastic house. The children loved the room at the top of the spiral staircase. Beach is great, flew kites and dug in the sand; great coffee & cakes at deli. Fish & chips from French's superb. Great holiday. Thanks" Mrs Green, Feb 2011
"Everything and more you'd want in a holiday home. What a wonderful time we had and the little touches were so thoughtful. I think we'll be back every year, thank you so much." Simon from Norwich, Jan 2011
"It was perfect. Absolutely perfect - I think we may be back every year!" - Rob from Cromer, Jan 2011