Jolly Sailor Cottage is a stone's throw from the seafront in the East End of Wells-Next-The-Sea. The cottage is on the Norfolk Coast Path and is in close proximity to the Norfolk Coast Cycle Way
Coasthopper
(Lynx to Hunstanton Coastliner 36, Sanders to Cromer)
The coastal bus service with a frequent service during the summer, less frequent in winter months. Useful for walking the coastal footpath and returning on the bus.
The nearest bus stops are on Standard Road near the junction with Northfield Avenue.
To see more transport links, have a look at the map below. There are also bus services between Wells and Norwich with changes in Fakenham.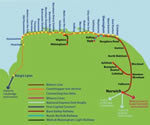 Norfolk Green Bus (Stagecoach)
Run the 29 service to Fakenham; this is hourly at peak times. It is also possible to connect to the X29 service to Norwich.