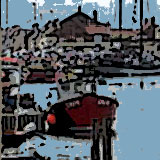 Tourist Information Centre, The Maltings, Staithe Street, Wells. Tel: 01328 710885
Wells Water
The beach is at the end of the beach bank and can be accessed by foot, by car into the Pay & Display beach car park, or by using the seasonal miniature railway. The sandy beach stretches all the way to Holkham.
As an alternative to the busy Quay, the slipway opposite the cottage can be used for crabbing. The slipway can also be used at low tide to access the marshes and sand opposite the cottage.
Please find below a message from the Wells Lifeboat crew:
The most frequent rescues are to people and animals that get cut off by the tide.
Please take care when crossing the channel or venturing out on to the sands and marsh. Remember the marsh is a nature reserve and a fragile environment and should be respected. The safe option is to keep to the footpath. Ask, if you don't know what time the tide comes in and if you walk out to the water's edge, occasionally glance backwards to make sure the water is not coming in behind you. Also, if you hear a warning siren, that's to warn you the tide is on the turn and coming in and you should return to safety immediately.
Please pay attention to the warning signs regarding the tide. A siren is sounded when the tide is coming in and there is a danger of being trapped on the wrong side of the channel, either at the beach or opposite the cottage.
Local Attractions
The beach can be accessed by car from Lady Anne's Road in Holkham; there is a charge for parking. The beach can also be accessed by walking along Wells beach or through the pine trees that run behind the beach. There is now a Visitor Centre at Holkham, The Lookout, which highlights the diversity of the reserve and has interactive displays about the reserve and it's wildlife. The building aims to increase awareness on how visitors can play their part to protect the reserve. The Lookout serves drinks and snacks, and has toilets. The walk along this unspoilt stretch of coast line can be continued all the way to Burnham Overy, be aware there is a Naturist Beach between Holkham and Burnham!

The lifeboat station houses an all-weather lifeboat and an inshore lifeboat. Regular open days and open evenings are held with visits onboard and a chance to meet the volunteer crew members.
Walsinghams Bicycle Hire
Situated on Staithe Street this amazing shop sells hardware, gifts, toys, homeware, fishing equipment and more. Bicycle hire available for flexible time periods. Tel: 01328 710438
Bike hire available all year round. Helmets and locks provided, child bikes and child seats also available. Maps and ideas also provided.
Ride on the longest 10¼" narrow gauge steam railway in the world. There is free parking at Wells Station, and services operate frequently. Dogs are welcome, and under 4s travel free.
This is an outdoor trail of 3D art launched in 2018 with the opening of the refurbished Wells Maltings on Staithe Street. The trail features 17 works by 26 artists, and maps can be collected from the Maltings / Tourist Information Office. Runs until September 2018.
The theatre, in the newly refurbished Maltings, offers a programme of theatre, comedy and music. The theatre is also the home of cinema in Wells which is now showing live screenings from The National Theatre, The Metropolitan Opera, English National Opera, Royal Opera House and The Bolshoi Ballet.
Tickets for the Maltings events can be booked online. Cinema tickets can be booked online, at the Tourist Office, or by telephoning 01328 710885.
For a truly enjoyable and unforgettable experience become an alpaca trekker for the day by taking one or more of our groups of alpacas for a walk along the bridleways and coastal paths here at Wells-next-the-Sea & Stiffkey. With stunning views across the saltmarshes to the sea, your guide for the day will tell you of the history of this part of our beautiful coastline as we walk along the tracks and ways. Treks can be from 1 to 3.5 hours in duration and you may wish to bring a picnic on the longer treks for which time can be made to stop.
The Poppy Line, Sheringham to Weybourne to Holt
The North Norfolk Railway offers a 10.5 mile round trip by steam train (vintage diesel trains on some journeys) through a delightful area of North Norfolk designated as being of outstanding natural beauty. With three beautifully restored century-old stations, the Poppy Line is one of the UK's most scenic heritage railways. Tel: 01263 820800

Warham Camp is an Iron Age hill fort with steep banks and deep ditches, and has some of the most impressive earthworks in the country. The camp is on a rise overlooking the River Stiffkey.

Built in 1942 – 43 on the edge of RAF Langham, this intriguing building utilised innovative technology to train anti-aircraft gunners. Long before digital virtual reality was invented, moving images projected onto the inside of the Dome taught brave trainees how to shoot down enemy aircraft successfully. Seventy years after the end of World War 2, a visit to the Dome offers a unique opportunity to journey back in time and experience what life was like for those who served at RAF Langham. The dome features displays; videos; activities and games for children and knowledgeable volunteers. Open 2-3 days a week, check website for details.
The Heritage Centre has been equipped with donated RAF memorabilia, such as photographs, maps, squadron shields, medals, aircraft models, paintings, drawings and written historical records from Bircham Newton's past. One important exhibit within the Centre is a large history board listing all of the commanding officers from 1918 until 1962. It also provides details of the most important squadrons that served at Bircham Newton during World War 2, together with their squadron commanders. The Heritage Centre has many unique historical photographs on display, including some from the very early days of the Royal Air Force. Other items of interest include aircraft models, airfield plans, medals, flying logbooks and original paintings and drawings by various artists. Open some Sundays and every Bank Holiday.
The centre in Stiffkey tells the story of Dunkirk veteran local lifeboat Lucy Lavers. There are videos and displays of our fishing and wooden boat building heritage, including crab fishing, whelk fishing, and fishing life and communities. There are a number of fishing artifacts and photographs in the centre which have been lent or given to us. Open weekends and Bank Holiday Mondays April - October.
Lovely contemporary gardens by Dutch designer and now home to the BBC's Springwatch TV series. Waterfowl and wildfowl collections with information centre, conservation shop, adventure play area, walks, nature trails and a licensed restaurant and Wensum discovery tour.

An award winning forest of wild family fun and adventure near Hoveton. Treehouse, zip wires, jungle bridges, Crocklebogs, boat trips, storytelling, marsh walks.

A monster day out set in 100 acres of woodland in Lenwade. Dinosaur Trail, Secret Animal Garden, adventure play areas and lots more.

RNLI Henry Blogg Museum, Cromer. Aimed at adults and children alike, this inspiring museum tells the story of Henry Blogg 'the greatest lifeboatman of all time'. Together with his crew, he risked his life to rescue 873 people from the sea. While visiting the Lifeboat Museum, don't forget to visit RNLI Cromer lifeboat which is situated at the end of Cromer Pier.
The oldest established full-scale lavender farm in England.

The most complete and impressive monastic ruins in Norfolk of a Benedictine priory. The Priory was founded by a nephew of William the Conqueror and is one of the earliest Norman religious foundations in the country. The nave is now the parish church, alongside impressive ruins with earthworks visible in adjoining fields.
The oldest purpose-built museum in Norfolk and houses the finest seashell collection in the UK.

A wonderful visitor attraction in Holt for those that enjoy getting out and about and a little bit closer to nature.

A tranquil shopping destination next to the ruins of Creake Abbey, North Creake where you can browse the shops, cafe and the monthly EDP Best Farmers Market 2010.
Spend a day on this working farm. Lots of attractions including farm animals, farm activities, deer safari, adventure playground and trail walks. Farm shop and cafe.
A fabulous day out for all the family. Come and see the world's largest collection of steam engines and organs, ride on fairground carousels and the gondola, enjoy 'Behind-the-Scenes' tours and watch silent movies. Lunch in the barn and shop in our olde worlde village shopping village. And our fantastic play area has plenty to delight children of all ages.
Burnham Thorpe
Burnham Thorpe is the birthplace of Lord Nelson whose father was rector of the parish church. Nelson held a dinner in the local pub, The Lord Nelson, prior to his departure to join HMS Agamemnon.
Walsingham
Walsingham has been a place of pilgramage since medieval times. Both the Roman Catholic and Anglican shrines attract visitors and pilgrims each year.
Local shopping through their partnership with local farmers and producers. Also have routes for walks around Walsingham available.
The Great Walsingham Barn complex sits on the edge of the village with views of the country side beyond. It was converted from traditional farm buildings and is now a well known art centre for arts and crafts. There are regular exhibitions of paintings and sculptures alongside a wide variety of original craft items. These converted traditional Norfolk Barns are in a beautiful courtyard setting with free parking and the Walsingham Cafe.
You can look out for buzzards, red kites, harriers, owls and lots of other wildlife along the beautiful walks.
Run children's adventure days and family fun weeks. Events emphasis the fun that can be had when exploring the environment through outdoor pursuits. We are outside as much as possible to keep the children entertained, making the most of the coast that surrounds us, i.e. orienteering, sailing, kayaking, exploring.
A friendly National Hunt Racecourse that has been in existence since 1905. Its racing season runs between October and May and race meetings are enjoyed by crowds from all over the country. You are guaranteed to have a great day out at Fakenham races, with its relaxed and welcoming tone and no formal dress code.
After 2 years of development, 10 acres of derelict woodland and abandoned brick kilns on the outskirts of Cromer have been transformed into a home for a wide range of tropical South American animals, including Jaguar, Otters, Monkeys and Flamingos. The park style zoo, has a network of paths and viewing areas, there is a cafe overlooking the lake, a picnic area and children's play area.
Norfolk Health, Heritage and Biodiversity Walks
Norfolk County Council is in the process of developing 150 circular walks throughout the county in and around Norfolk's market towns and villages and surrounding countryside. These walks will provide people with opportunities for regular exercise on attractive and interesting routes of varying distance and challenge. There is a copy of the Wells and Fakenham walks with our tourist information leaflets.
Download your copy of the Wells and Fakenham Booklet
The Ramblers Route Finder
The Ramblers have launched Ramblers Routes, an online library of high-quality walking routes, to give walkers the freedom to walk at their own leisure along safe, inspiring and interesting trails across Britain. There are walks to introduce new people to walking through to long-distance walks for more experienced walkers.
There are plenty of riding schools and stables in Norwich and Norfolk. Its a great place to learn to ride. Most stables and riding schools provide out or indoor arenas, with one to one tuition or group rides, offering teaching for beginners or the more advanced. Learning to ride a horse can be one of the most exhilarating things you can do. If you're a total novice we recommend calling up a number of different schools and asking whether they have suitable horses for beginners - with an even temperament! The school which is in close proximity to Jolly Sailor Cottage is North Norfolk Riding Centre, Walsingham.
If you are a fan, there are several Geocaches in Wells and the Pinewoods; more in Wighton and Warham; Stiffkey and the Burnhams.
Tennis courts can be hired by visitors to the area. Bookings can be made online through www.clubspark.lta.org.uk/wellstowntennisclub and click on the Bookings tab, the cost is £7.50 per hour.
Wells Croquet Club
Visitors are welcome to the club where Golf Croquet is played on Thursdays at 2pm, and Association Croquet on Tuesdays at 2pm. The season runs from April to September, and no equipment is necessary, just wear flat shoes. Call Marylyn (01328 710963) or Lindsay (01328 710558) for more information.
Wells Bowls Club
Visitors are welcome to the club where games are played during the season on Wednesdays at 2pm. Also on Wednesdays, tuition is available for beginners or improvers. The cost is £2 to play or learn, and refreshments are provided at 3pm. No equipment is necessary, just wear flat shoes. Call 01328 316411 for more information.
Markets
Every Thursday morning. Fakenham's modern-day Thursday market now extends over two sites, operating around the town square near the Corn Exchange and also continuing in the large car park towards Cattlemarket Street. There are a large number of traders offering a wide range of goods including clothing, foods, fruit & vegetables, plants and household supplies.
Held on the fourth Saturday of every month from 8.30am-12 noon. A wide variety of fresh local fare, organic foods and quality locally grown produce, plus entertainment and a great atmosphere. Traceability, low 'food miles' and a fine choice of quality foodstuffs, plus local crafts, plants and flowers.
Held at Creake Abbey Studios, North Creake, a tranquil shopping destination next to the magnificent ruins of Creake Abbey where you can browse the shops. The Farmers' Market is held on the first Saturday of the month, excluding January, from 9.30am-1pm. Stall holders come with fresh local meat including rare breed pork, Aberdeen Angus beef, chickens reared with no antibiotics and perfect feed, fresh trout and smoked trout products, fresh vegetables, fruit and flowers in season, cheeses, cakes, macarons, tarts (savoury and sweet), pies, fudge, artisan breads, pickles, rapeseed oil, vinegars, preserves, local ales, juices and plants.
The Norfolk Artisan Fair is held at the Village Square, Kelling Heath Holiday Park, Weybourne from 10am - 4pm on select dates, showcasing a wide range of Norfolk hand-made artisan-produced foods, crafts and drinks for you to browse, taste and enjoy along with plenty of parking, lovely loos, a pub, sunday Carvery restaurant, 270 acres of country walks and 2 adventure playgrounds. Well behaved dogs on leads are welcome.
Holt Markets
The Country Market is held on Friday mornings from 9-11am. Country Markets are co-operative enterprises selling a range of baked goods, preserves, eggs and honey, garden produce and crafts in over 450 outlets. All goods are produced to the highest standards and are genuinely home made. The market is held in St Andrews Church Hall on Church Street.
The Farmers Market is held fortnightly on Thursday mornings in Holt Community Centre.